Is the "Status Quo" Good Enough?
For many plants that make use of pneumatic conveying systems, maintaining the status quo seems sufficient. Many manufacturing plants have many years of service in them and many believe fully in the adage "if it aint broke, don't fix it". While it makes for a catchy slogan, when misapplied it can lead to stagnation and a gradual decline in quality and competitiveness over time. Because in many cases it actually is broken...but nobody has bothered to fret too much because there's been no good solution.
It's common to hear stories about blockages that cause unplanned downtime, quality problems with blending applications and wasted product during line restarts. Maintenance issues and product damage/loss are also common pain points.
The problem is that there's really never been an accurate way to measure actual particle speed. Calculations were made based on system parameters, and in some cases air/gas speed was measured. Those are substantially different than actual particle speed itself which will often determine which baked goods will crumble, which resin will smear and which products will create blockages.
To this end, many have seen the benefits of incorporating triboelectric monitoring systems into their dust collection and associated pneumatic conveying systems to improve operational efficiency, reduce costs and increase reliability. Let's consider 2 areas that are commonly overlooked where a triboelectric system can provide real benefits.
1. Flow/No Flow and More Flow/Less Flow Monitoring Prevents Blockages in Pneumatic Conveying Lines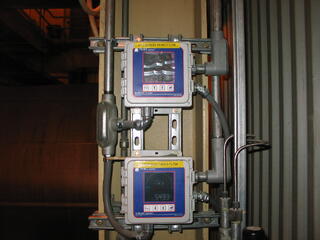 Auburn Systems' triboelectric dust detection technology forms the basis of their flow monitoring systems for pneumatic conveying systems. More accurate and sensitive than clunky mechanical flow meters, Auburn's triboelectric Flow/No Flow and More Flow/Less Flow systems can provide a reliable stream of operational data to plant personnel and provide early warning of any problems that affect flow rates. Additionally, for dilute phase conveying, Auburn's TRIBO.hs 5000 is useful for monitoring particle velocity in realtime. Having such accurate data proves invaluable in preventing blockages that cause production issues, damage equipment and in some cases create combustible dust hazards and other health and safety concerns.
2. Better Dust Collector Monitoring Results in Fewer Shutdowns and Better Operation
Triboelectric monitoring of your pneumatic conveying system's filter receiver system can improve many aspects of its operation while also boosting efficiency and cutting costs. Two key areas include faster leak detection and predictive maintenance capabilities.
With triboelectric bag leak detection systems operators can receive notice of leaking filters within minutes of one forming, as opposed to days or even weeks with other monitoring methods such as opacity meters, stack observations or differential pressure readings. This early warning allows for corrective action to be taken immediately to remedy the problem. This prevents such leaks from causing major emissions spikes that can cause damage to equipment, disrupt production or violate plant air permits.
With accurate emissions data operators can also make reliable estimates about filter life, allowing them to schedule well in advance for filter replacement. This provides a better balance between trying to stretch filter life as long as possible to save money and replacing them in advance of failure to prevent the many negative consequences of mass filter failure while online.
Conclusion
The inclusion of triboelectric monitoring on a pneumatic conveying systems, from pickup point to filter receiver to exhaust stack can provide immediate improvement in efficiency, reliability and performance.
There are many applications throughout factories - from those above involving baghouse operations to others which are focused on product manufacturing processes. Because triboelectric is often best known in the dust collection arena, conversations often start there and then extend to process applications.
Is the baghouse your baby? Then you'll definitely want to check out our free Guide to Baghouse Maintenance.